Material Handling Solutions
---
Conveyor Belts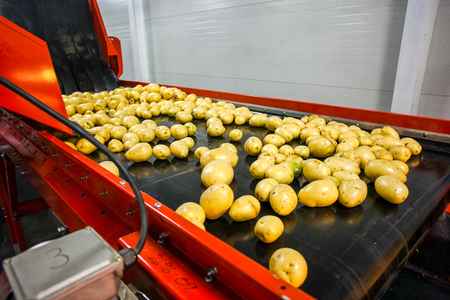 The available variants of conveyor belts are as manifold as the products for the transport itself.
• Robust versions for agricultural and building applications
• Easy to clean and with IP65 protection for food applications
• With sidewalls and fins for a smooth and gentle product transport
• et.al.
We specify the matching conveyor belt for your application. Cost-effective and with short lead times.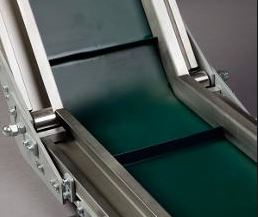 .... please contact us !
Rotary Buffer Tables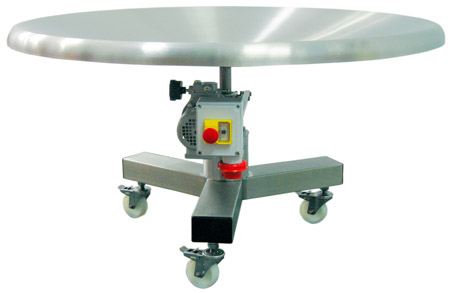 Rotary buffer tables - or even buffer plates - serve basically three processes:
• Orderly supply of products
• Disordered bufferung of products (e.g. pouches)
• Orderly buffering of products (e.g. bottles)
All buffer plates are made of brushed stainless steel and are available as standard with the following features:
Table diameter 1200/1400mm (other diameters on request)
Rotation speed adjustable between 4-19 turns/min
Standard working height of the table is 810mm (other working heights - up to 1000mm - on request)
With rubber feets as standard, castors with break as option
Height adjustment in a range of +/- 40mm
Electrical connection: 0,18kW/0,7A; 400VAC 50Hz
For several table types we have standard and heavy-duty layouts available.
Table Types
Samples of possible table types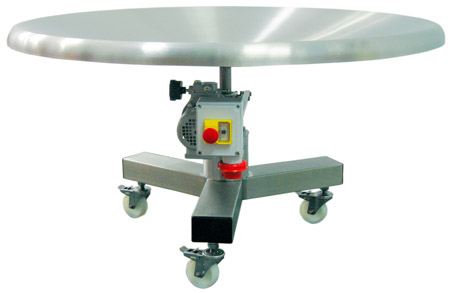 Concave Table
Standard version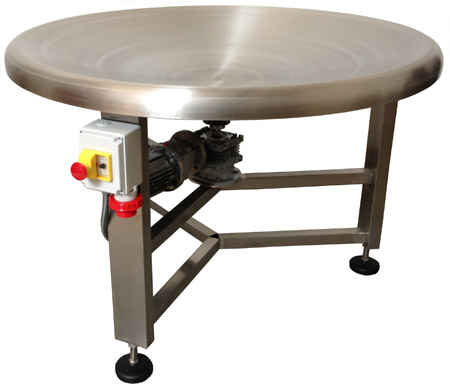 Concave Table
Heavy-duty version
Plain Table
Standard version
With sideguard for orderly
guidance of the products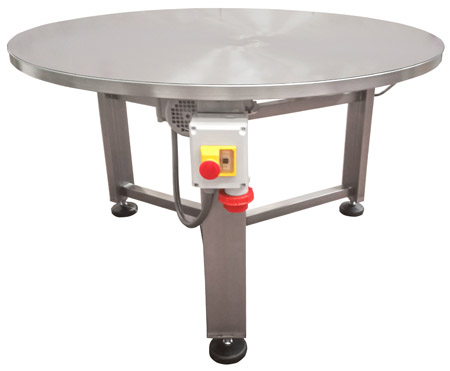 Plain Table
Heavy-duty version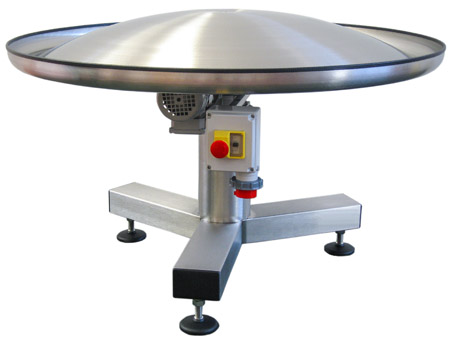 Convex Table
For arranging the products at the
outside and facilitating the removal
Cup-Version
For collecting the products
in the middle of the table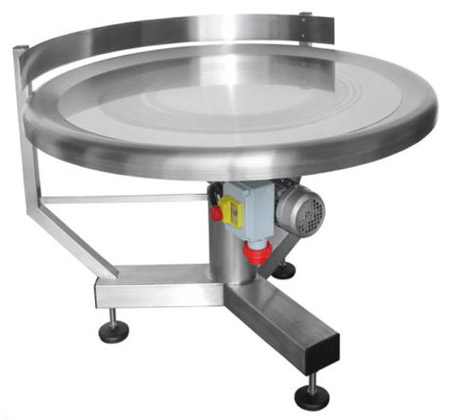 Customized Version
Small table with 600mm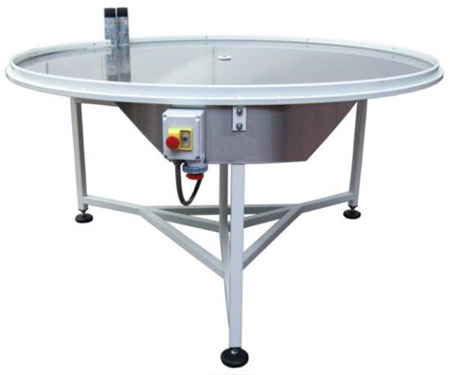 Customized Version
Large table with 1800mm
Options
Here you will see some samples of possible options. We design the rotary buffer table matching perfectly to your application.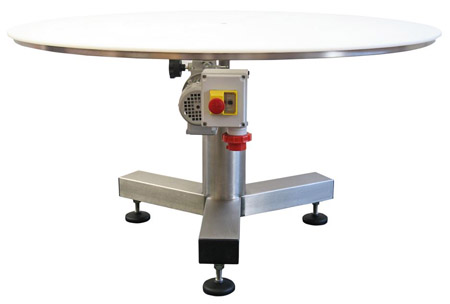 Coating with PTFE
or plastic
For protecting the product surface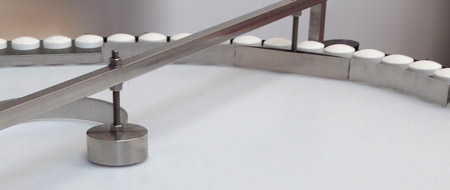 Guiding plates
and rails
For orderly guidance of the products
.... and much more, please contact us !

Technical data subject to change
Palletizers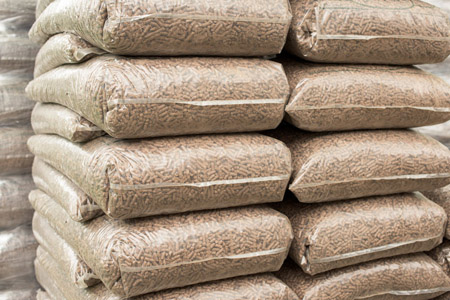 Our robust and fully automated palletizers is able to stack up to 2000 bags per hour. Depending on the laying list the product is stored with an servo-driven handling arm at the right place. With lateral positioning arms all bags are pushed together and layed at the next trays after opening the laying tablets.
After closing the laying tablets the underlying layers/bags are pressed against the laying tablet to thereby obtain a stable stratification. This results a very stable stack and the possibility to stack much higher as without this compression.
When the quantity of layer is reached the pallet is lowered and automatically transported smoothly. A new pallet is provided. Possibly with or without a protection sheet.
Benefits summary: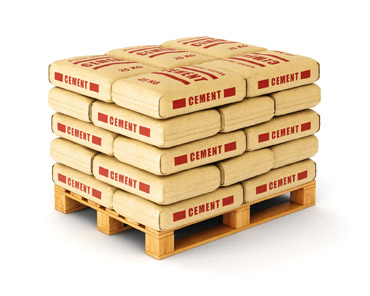 Fully automatic, robust palletizer
Up to 2.000 bags/sacks per hour
For bags from 2kg to 50kg
Free laying design of the stacking pattern
Automatic format change in bag size change
Stable palletizing by layer compression
Remote maintenance