Sand / Stones / Soil / Pellets
---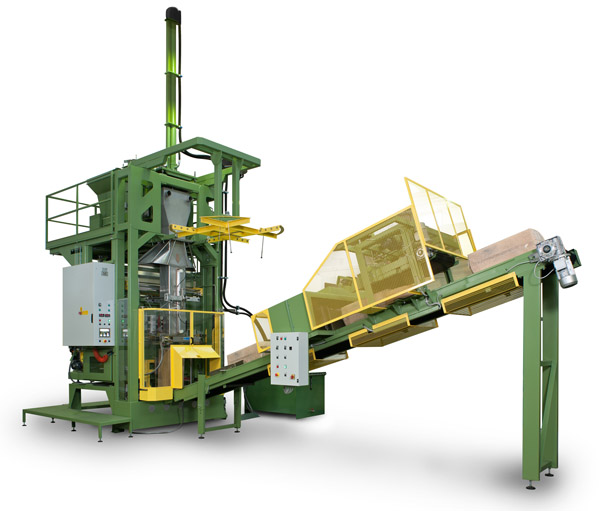 For packing granular and powder bulk materials a lot of experience and know-how is needed. We can support you with a matching packaging machine in the following fields:

• Soil / Flower Earth
• Peat
• Compost
• Wooden Fibres / Coconut Fibres
• Charcoal
• Premixes
• Wooden Pellets
• Stones / Gravel / Sand
• Building Materials (Gypsum, Cement, etc.)
• Food / Petfood (Salt, Sugar, etc.)
• Chemical Products
• Plastic Parts / Granulates
• et.al.
Machine Types
CV5025
Bag dimensions: 450x680mm max.
Speed: Up to 35Bags/min
Bag weight: 25kg nax.
Bag size: 30Liter max.
CV5080
Bag dimensions: 570x970mm max.
Speed: Up to 35Bags/min
Bag weight: 50kg max.
Bag size: 80Liter max.
CV5125
Bag dimensions: 650x1170mm max.
Speed: Up to 22Bags/min
Bag weight: 50kg max.
Bag size: 120Liter max.
CV5150
Bag dimensions: 750x1170mm max.
Bale dimensions: 400x400x800mm max.
Speed: Up to 20Bags/min or 4-6Bales/min
Bag/Bale weight: 50kg max.
Bag/Bale size: 150Liter max.
Dosers / Weighing Units
Depending on the product and the application the best matching doser or weighing unit will be used.
Band Doser (Single belt)
Band Doser (Double belt)
Screw Doser
Cup Dosers
Band Weigher
Infeed Funnels / Conveyor Belts / Mixers
Our qualification is the packaging machine not only.
We can specify and deliver the complete production plant on request:
Infeed funnels
Conveyor belts
BigBag discharge stations
Stations for feeding fertilizers (liquid, powder or granular)
Magnets for metal separation
Mixers
Bag press
Check weighers
Outfeed belts
.... and much more
Please contact us. We would like to start a personal discussion with you.